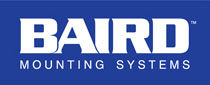 Baird Mounting Systems
Over the last 25 years, Baird has built its reputation by providing the best mounting systems in every market they serve. Baird products have become legendary for withstanding the most demanding conditions on earth.
Our customer have confidence knowing every Baird product is backed by their extensive testing process, proven performance record and Baird's 10 year warranty.
Baird provides a complete product line including:
Non Penetrating Mount
Penetrating Mounts
Ridge Mounts
Wall Mount
Tactical / Quick Deploy Mounts
Pedestal / Kingpost Mounts
In-Ground Poles
Mast Adapters
Custom Mounts
Showing 1 to 12 of 20 (2 Pages)