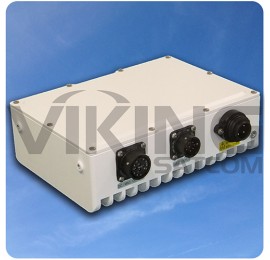 Power Supply, 250 Watt AC/DC, Outdoor, NJRC NJZ1289
NJZ1289
The features of the NJRC NJT1289 Outdoor 250W AC/DC Power Supply Unit (PSU) are to provide the stable +48V DC power to operate Ku-band 16W and 25W BUC, even if power supply of the equipment is not capable enough to operate the BUC.
This unit employs the aluminum housing with corrosion-proof treatment on the surface and has air-sealing structure in order to use perfectly as the outdoor unit.
In addition, the outdoor AC/DC PSU complies with EC DIRECTIVE.
Applicable BUC Models: NJT8319 and NJT8370 Series