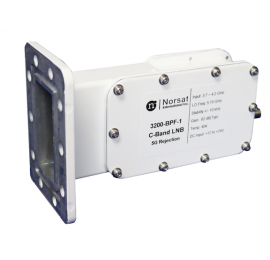 5G C band LNBs
5G LNBs
C band 3200-BPF and 3100-BPF 5G LNBs reject terrestrial interference in C-Band (5G, Radar and C-Band transmitter). Earth stations may be fitted with 5G Interference mitigating C-band LNBs with internal filters to help prevent service disruption. Norsat's advanced C-band 5G Interference LNB is the perfect solution for broadcasters, media houses, TV distributors and other C-band users.
The C band BPF LNBs are available in the below frequency options. Click on the frequency band to view the options.
Bandpass: 4.0 - 4.2 GHz *USA Frequency Range*
Bandpass: 3.7 - 4.2 GHz
Bandpass: 3.9 - 4.2 GHz
Bandpass: 3.625 - 4.2 GHz
Bandpass: 3.754 - 4.2 GHz
Bandpass: 3.8 - 4.2 GHz
Contact Viking to discuss your specific application.