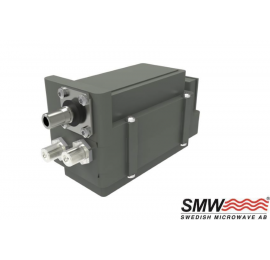 Swedish Microwave Ku-Band Dual Band Fiber Output LNB
SMW-WDLF-PLL*
The Swedish Microwave SMW-WDLF-PLL* Fiber Output LNB supports reception of full Ku-band frequency range simultaneously with 2 LO's for low and high band outputs.
Single frequency conversion and directly modulated DFB lasers results in best possible performance.
Up to 20 km standard 1310 nm ( optional up to 40 km with 1550 nm) single mode fiber cable distance, depending on link budget.
Perfect for applications where professional fiber distribution from an antenna is needed but space and/or budget is limited.
Full Ku-band coverage

Type E: 10.70 - 12.75 GHz
Type B: 10.95 - 12.75 GHz

Directly compatible with SMW Quattro Versa Link fiber receiver and compatible with a wide range of RF over fiber receivers on the market.
Choose between Internal Ref. or External Ref. input models
AGC – Automatic Gain Control (Option: Fixed Gain for large antennas and Beacon).
RF monitor and DC supply via RF connectors.
Ultra-low phase noise option meets all profiles of DVB-S2X
Cost effective compared to running a separate fiber transmitter to a RF output LNB.
High P1dB and IP3 out RF via Fiber receiver