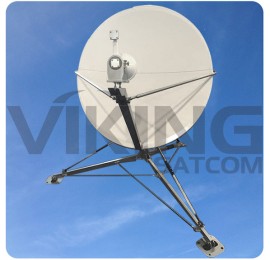 1.2 Meter Quick Deploy, Ka Band, CPI SAT 3138-111-2
3138-111-2
The CPI Satcom & Antenna Technologies Inc. lightweight 1.2-meter Quick Deploy antennas are designed for worldwide transmit and receive operation in C, X, Ku and Ka-band.
These portable antennas consist of Precision Compression Molded reflectors and a compact aluminum pedestal. This results in a durable antenna with superior stiffness and high performance under wind loading conditions.
The unique shape and the accurate reflector surface provide good sidelobe and cross-polarization performance. The antenna system is a Series 1138 and the reflector consists of a two-segment SMC compression molded assembly. Repeatability is maintained with precision registration of the reflector segments and the feed support structure.
CPI SAT Part Number: 3138-111-2
Ka Band Transmit Receive
2 Panel Sectional Long Focal Length Reflector for Low Cross-Pol Performance, .8f/d
Quick Deploy Manual Tripod Mount
Fine Tune Azimuth and Elevation
Hard Transit Cases
Multiple Feed Options Available