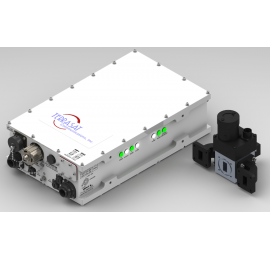 Terrasat LNB Receive Redundant System
TER-RX-1:1-*
The Terrasat 1:1 LNB Redundant System is a completely outdoor-mounted system. The RX 1:1 interface box is housed in a weatherproof enclosure mounted close to the LNB assembly to minimize cable lengths. The interface box provides LNB monitoring, waveguide switching and user interfaces.
The new RX 1:1 System adds multiband LNB control & redundant Internal 10MHz Reference to its extensive features.
Mounting the interface box is straightforward using the same universal mounting bracket as other Terrasat products. The LNB assembly can be either plate mounted or attached directly to the antenna feed assembly.
RX 1:1 System Features
C, Ku, Ka, and X band Options
Multiband LNB control
Redundant 10MHz Reference
All components are designed for outdoor mounting in weather-proof enclosures
Interface box mounts close to the LNB assembly to minimize cable lengths
AC powered
Several operating parameters are monitored including: LNB current, Supply voltage, 10MHz reference level, Composite power level
Multiple choices for local and remote M&C
Manual override switch is fitted for test and emergency manual operation